Versatile Photographers came to being due to the demand we had in wedding photography more than 10 years ago. It has been an adventurous experience covering  weddings from different cultures. This made it possible for us to meet clients expectation. We, Versatile photographers create art by capturing the passion and the chemistry between two lovebirds. At the beginning of last year, I received an email from Kara, Stefan and their travel agent Team Kilimanjaro requesting to capture their wedding day. As always my assistant and I, requested for the brief and it was just Kara and Stefan traveling to Kenya to get married. So there were no more guests. 
To my surprise, they wanted to get married in the beauty of our  Maasai Culture at Amboseli National Park. I was drawn to the wedding because I run a conservation project that focuses on our culture, wildlife and tourism Versatile Adventures.  After consultation, we came into agreement in terms of logistics and payment. All year I was looking forward to this day to capture a wedding in the wild. I opted not to use the flight  to Amboseli park since it would limit the number of equipments to carry and game drive thus I decided to ride in my own vehicle so as to document the couple experience. I booked a van for myself from Bigfoot Adventures Kenya  and made a request  that  I need a driver who has an interest to learn photography. That's how I met Tim who turned out to be an amazing assistant. Lucky he carried his own camera. 
A day before the wedding, we left Nairobi at 5am hoping to find Mt Kilimanjaro clear. You can't go wrong with Amboseli national park when it comes to Wildlife photography. As soon as I made an entrance to the park, I started taking pictures of the wild animals before getting to Tortilis camp where the couple was. Tortilis is one among the  unique camps that is located inside the park and is known for best views of Kilimanjaro Mountain. We received a warm welcome from Bob before introducing us to the couple. It was my first time to meet the couple and I loved them. At this time I couldn't wait to capture the candid and natural moment of this lovely couple. I almost fell into the holiday mood only to realize am at work. Later after lunch, we did a game drive with Tim and this time round my focus was to capture elephant's behavior.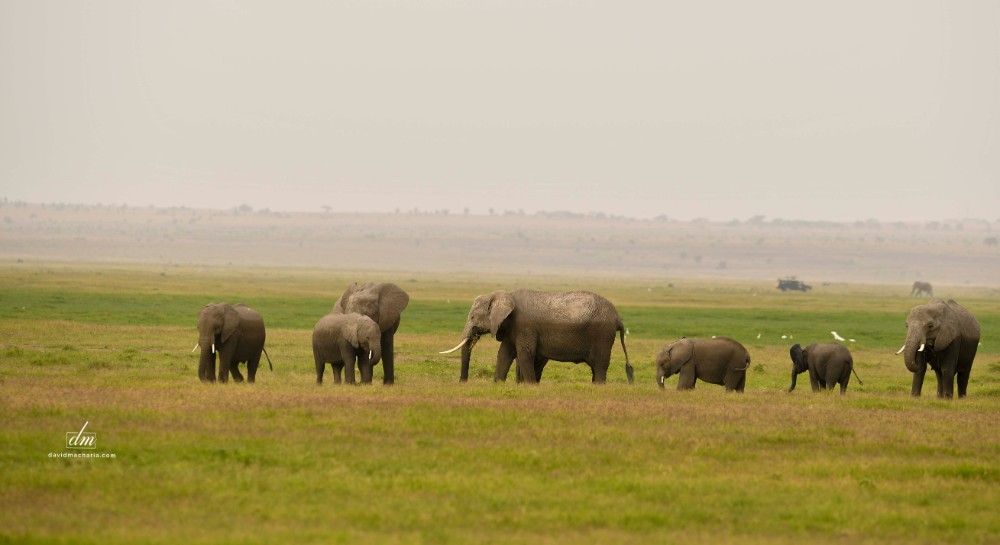 Amboseli is the only park remaining where elephants walk in big herds. Elephants depletion has resulted due to poaching and climate change. In our project Versatile Adventures we create awareness and the need to focus more on conservation for generations to come. Amboseli sunset is just breathtaking, and we were advantaged to have our camp inside  the park, thus we could wait till it sunk down.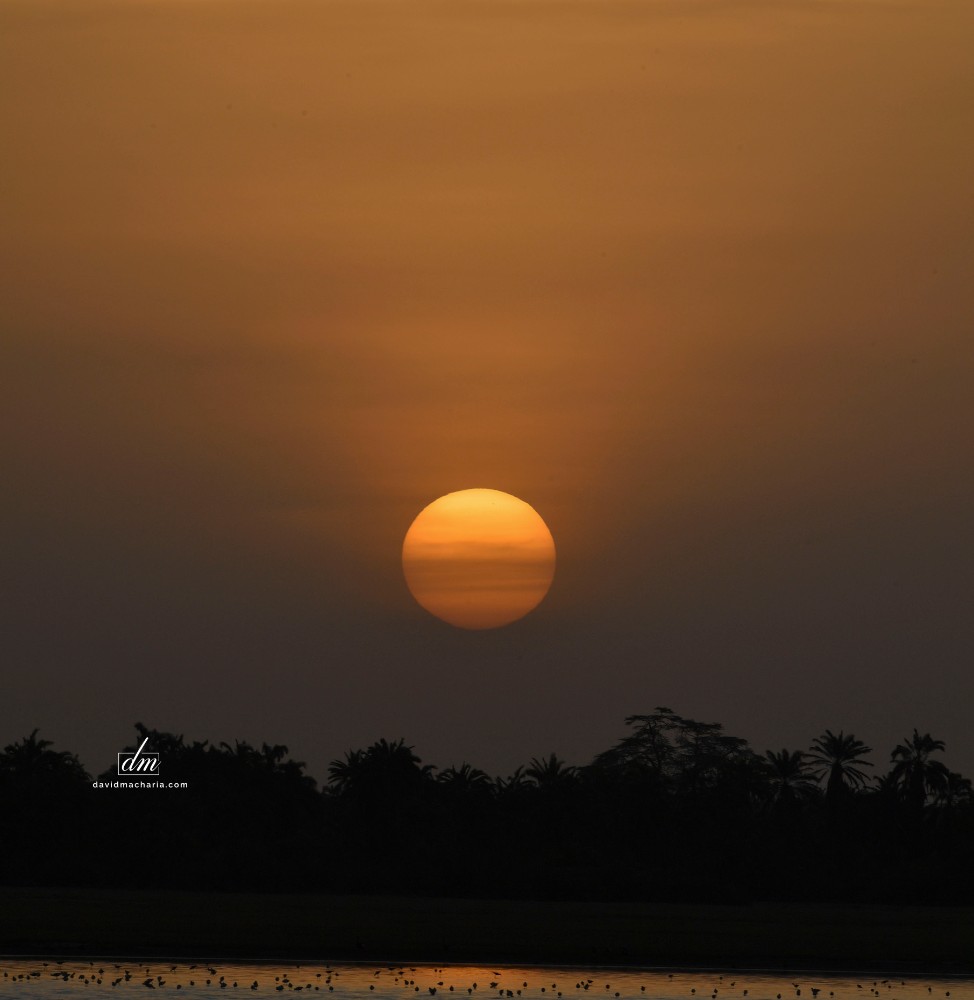 Here comes the wedding day. We kicked off at  6am ready for sunrise shots. At first, I met the groom,  and captured his first expression when he saw his bride wearing a very beautiful wedding gown. Tortilis Camp had prepared breakfast for us in the bush.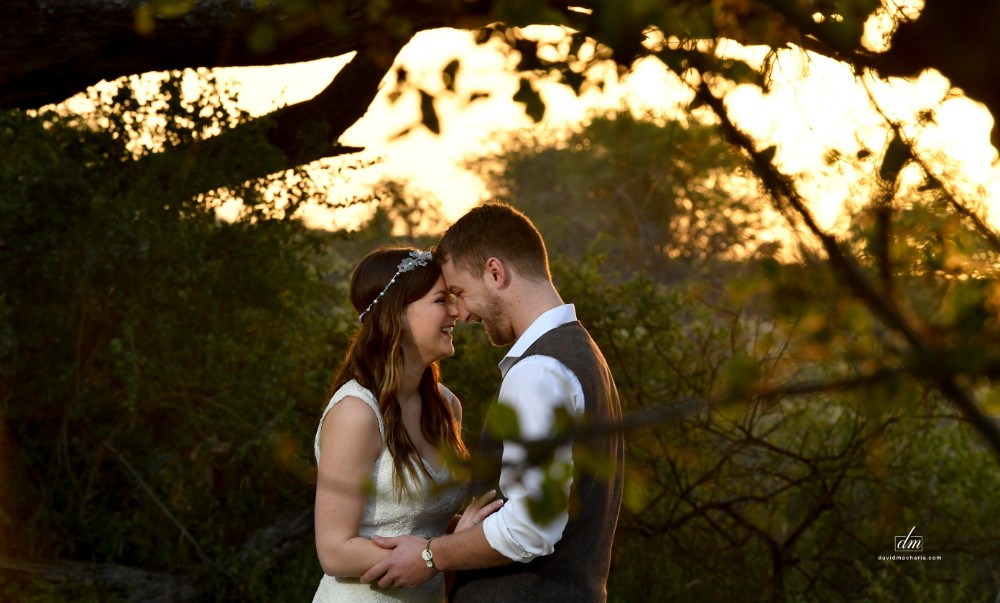 Wow, what an experience. Following, was the  game drive with our tour guide named Junior. Having our own ride made it possible to capture the couple true expression since this was their first game drive experience together. The elephants, zebras, wildebeests, and giraffe all witnessed the love.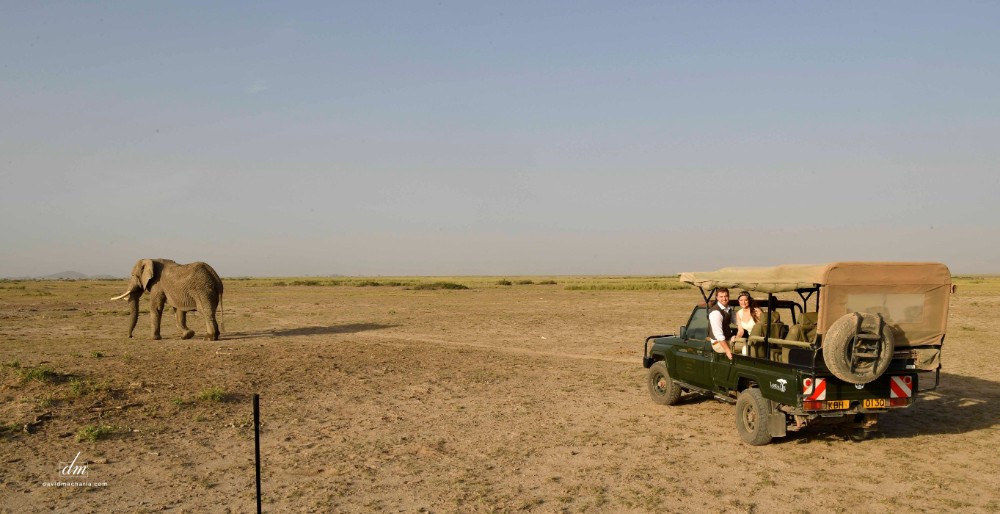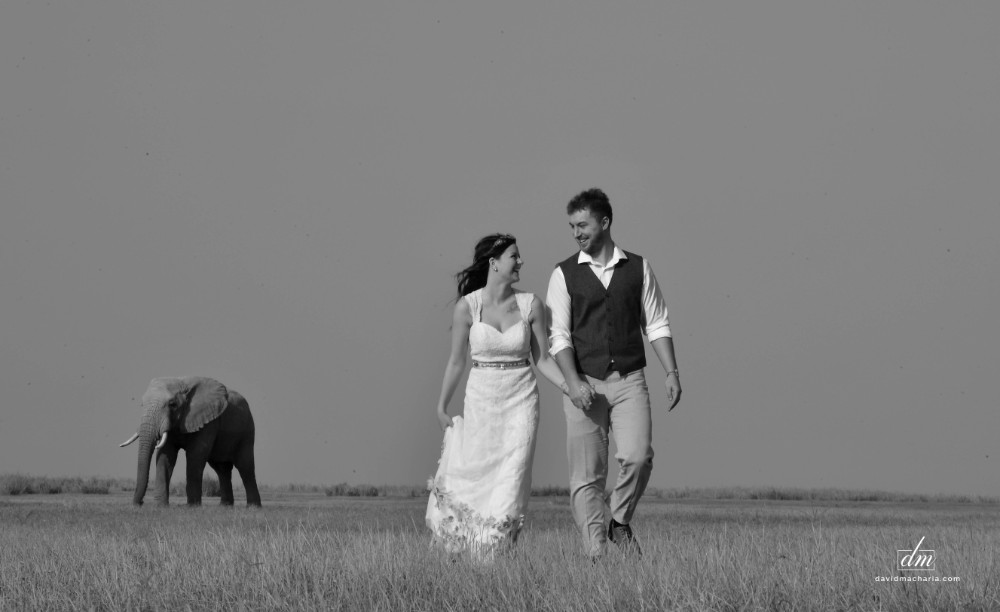 We later drove back to the camp to get ready for Maasai village. The love between Kenya and Canada, is one of  the reasons why we should conserve our culture. Maasai is among the few communities that  has maintained and preserved their cultural heritage, they are always full of joy to share their identity. We received a warm welcome with dances ,food and our couple was dressed to kill to Maasai regalia ready for the wedding ceremony. Gifts in form of cattle was exchanged cordially accepting them to the Maasai family with love.  l almost shed tears when I witnessed the love binding us as human being. Where did the world go wrong that there is so much hatred amongst nations??.. Anyway, wish the whole world can come together and share the love God gave us.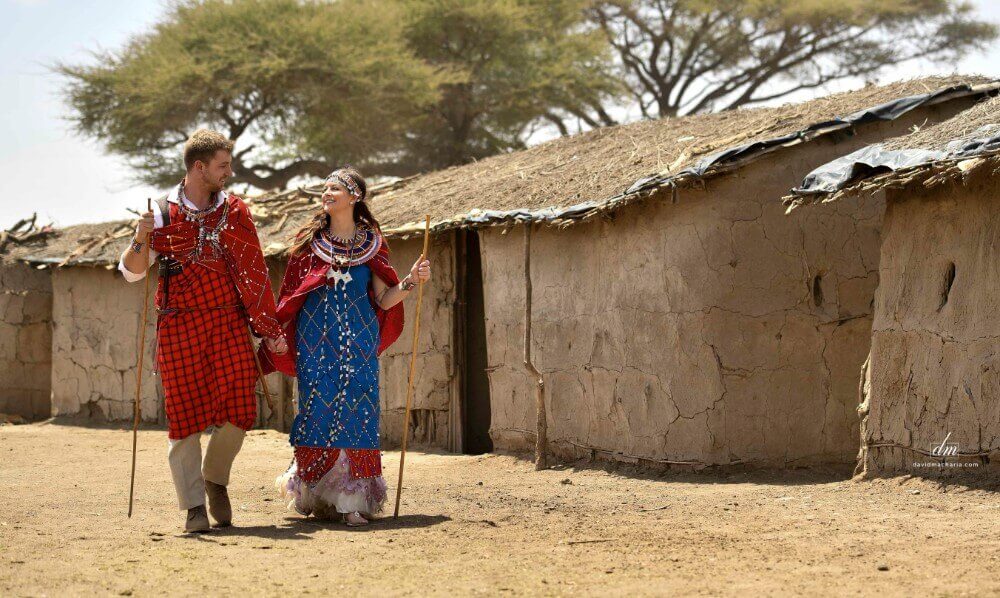 After nyama choma ( Roasted Meat) we had a group photo to crown the wedding ceremony. We did not worry about dusty winds, all we did was dance to the beats with the new couple as I crawled down to capture the moments.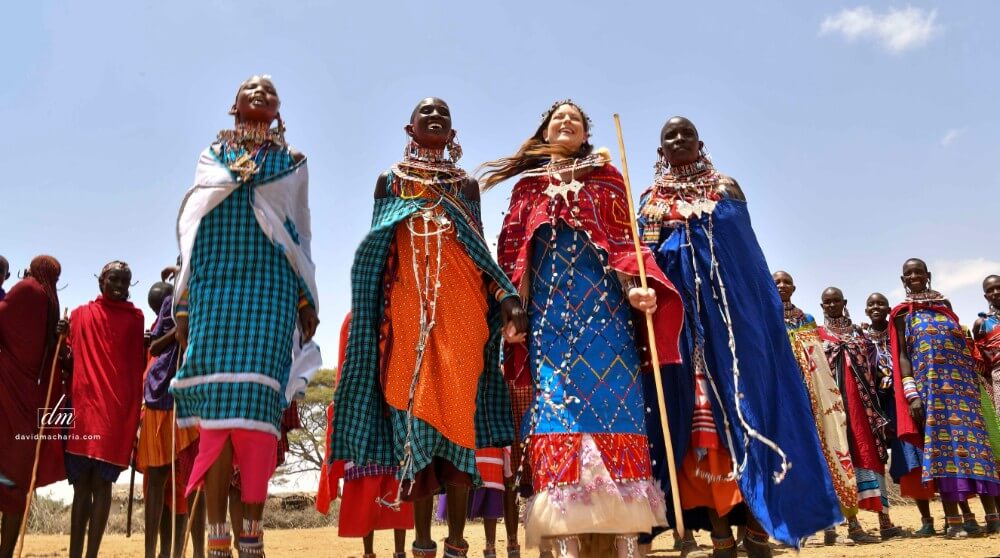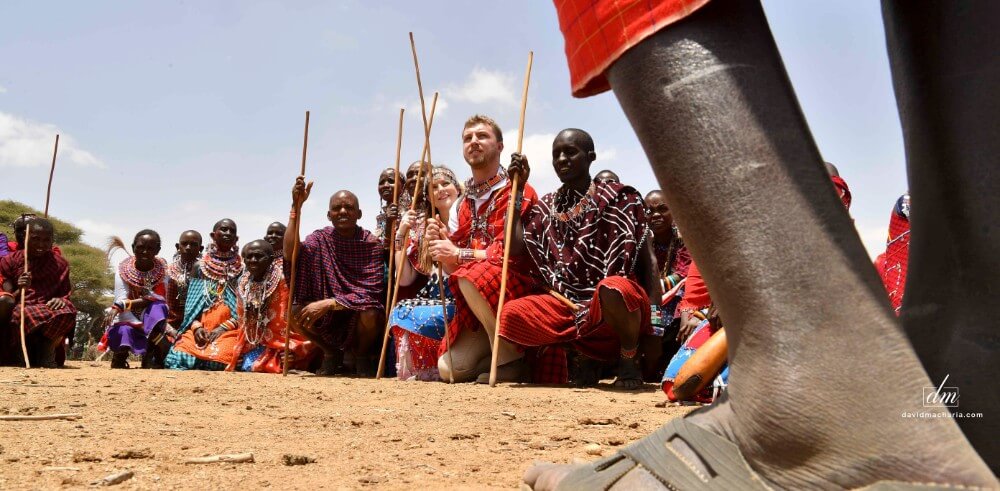 It was time to go and refresh since the wedding was not yet over and we had a bush walk before the sun set. In Weddings, it is all about food and at Tortilis camp we had our delicious lunch waiting for us.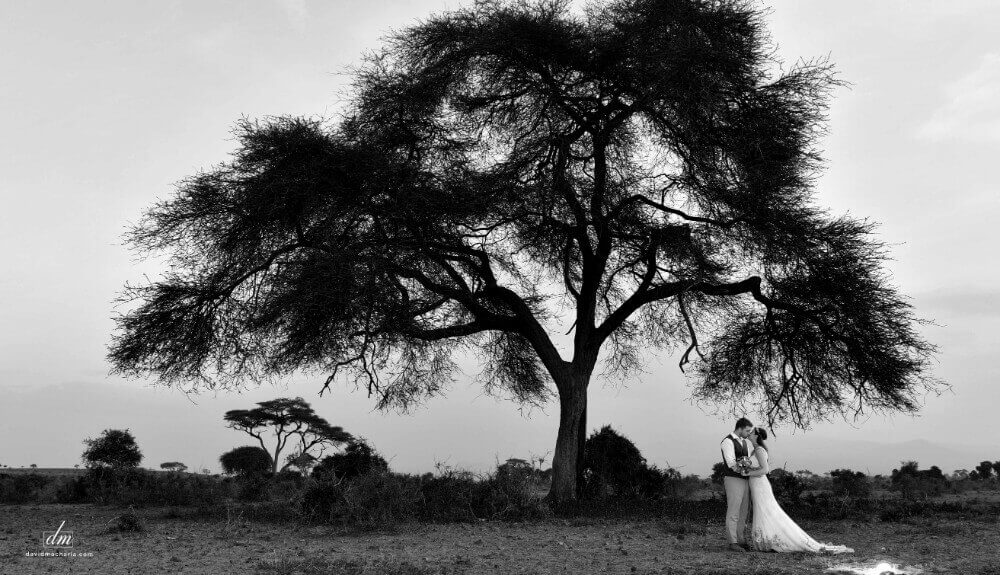 The bush walk with our Maasai tour guide, gave us an adventurous evening because we learnt so much about animals behavior by just looking at their footsteps. Our bush guide named Ben was so funny we laughed the entire walk.. we even witnessed a Chinese impala. When we meet, ask me what a Chinese impala is.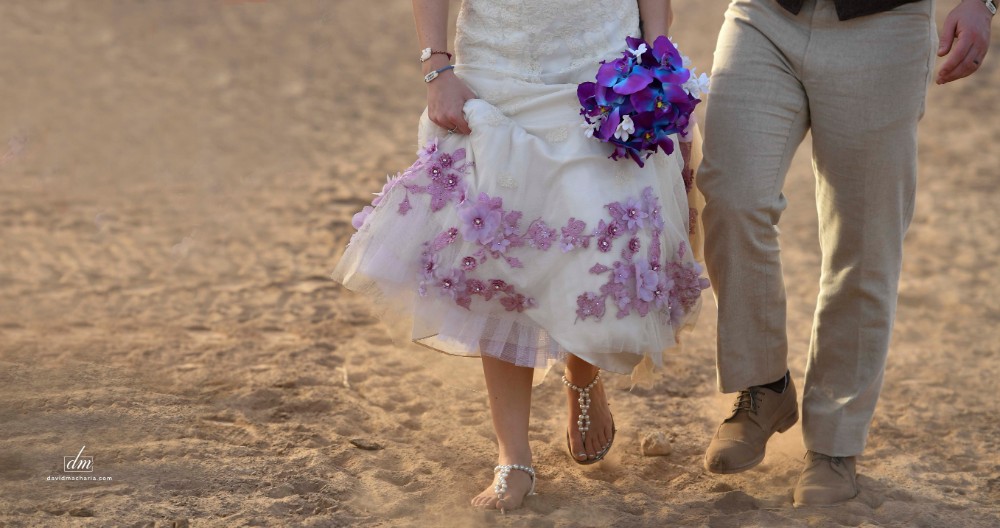 Tortilis gave us an exclusive experience and we had a cocktail at Ermirishari Hill where we witnessed beautiful Amboseli landscape, the sunset and part of the Kilimanjaro. Our wedding ended at dawn as I captured silhouette images of the lovely couple.
This is one the the unique couples and I thank God for giving us the opportunity to create memories for them. Stefan and Kara is an adventurous wedding couple since they had to leave the following day to hike Kilimanjaro from the Tanzanian route. Can't wait to deliver the album which they will find it ready as they come back from Kilimanjaro.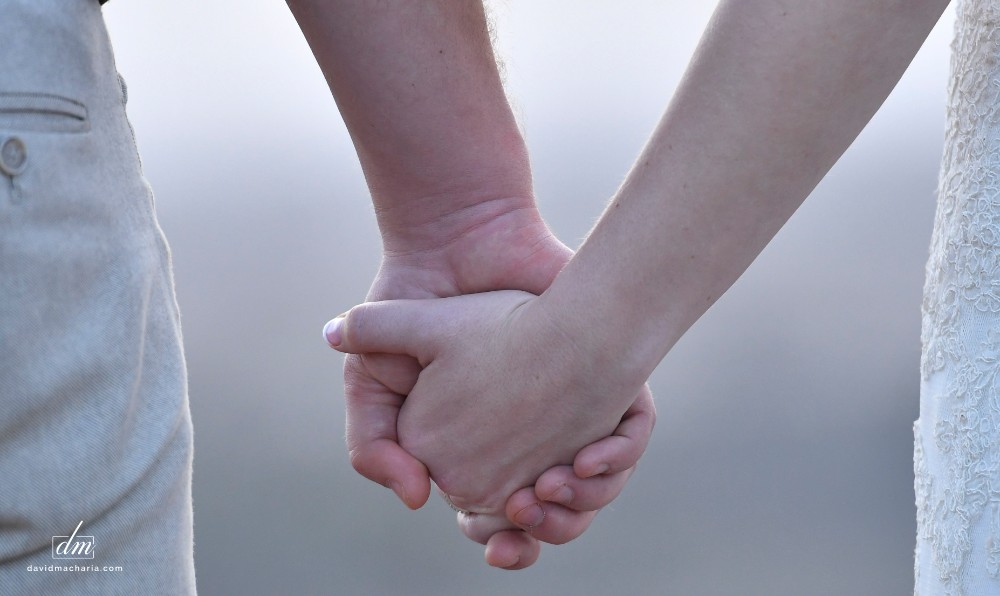 Few things I learnt that I would like to share include;
Always communicate with your client before so as to meet their expectations
Our culture is so unique it attracts other communities,  we need to conserve it
Wedding belongs to two people who are bound by heart.
You can have your wedding a place of your choice
For upcoming photographers;
Always give value to your client and you will never lack
Plan earlier,  source the equipments you need, to make your art exclusive
Always sell your craft online someone will fall in love with it and hire you.
Be visible online.
Be open to learn new things and be adventurous
Go out and explore. 
Booking for Destination Wedding for 2018 and 2019 is open..
Regards, 
David Macharia
Lead Creative Photographer
Versatile Photographers
Website: www.davidmacharia.com 
Mobile: +254722424136 +254722220978
Office:  +254 202173355
Email: info@davidmacharia.com
Website: www.versatilephotographers.com