Thursday 26th October, 2017 was a very important day in our country its when we had the
repeat polls. I had to start my day as early as 5am to perform my democratic right to vote and by
7am be ready to leave for Masai Mara. Despite the long queue I managed to vote and was on time at the pick up point Radisson Blu hotel. One of the state of art hotel in Nairobi upper hill.
I joined the Bigfoot team of drivers with their executive vans as they pick a group of visitors who had come for a conference.
When you visit Kenya, a safari is a must, to explore the beauty of our country's landscape, wildlife and our culture.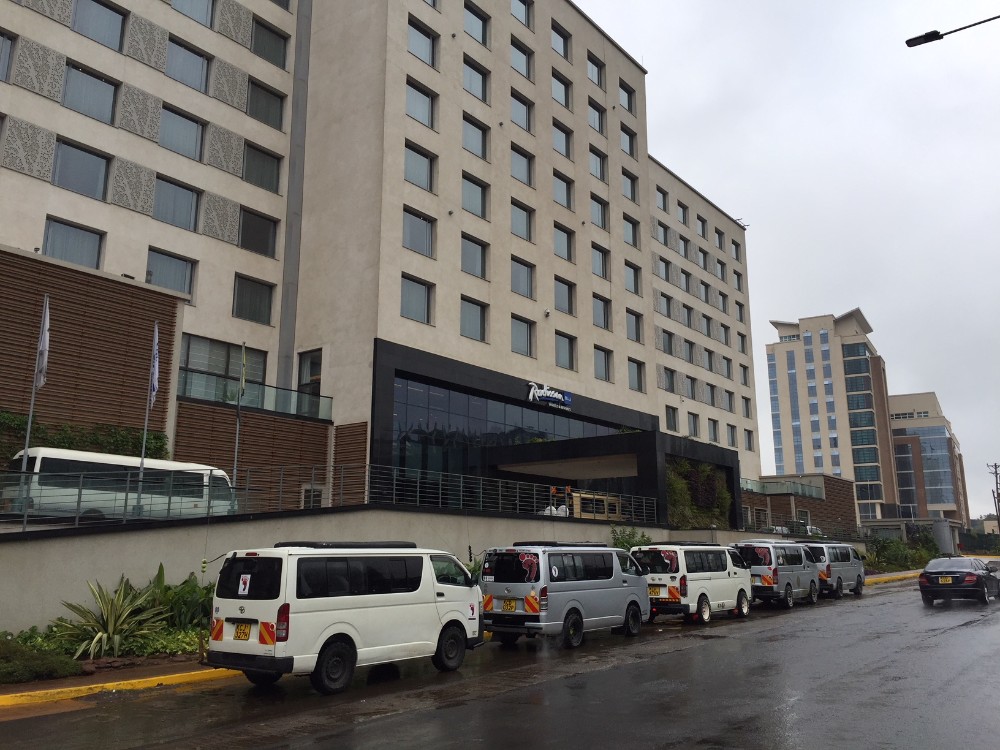 The safari to Mara started at around 9am. As usual we had several stop overs and the most amazing scenery is great Rift Valley where we met fleets of tour vans. This tells you our tourism industry is doing well despite the political state of our Nation.
The fun of safari in Mara is the massage you get on the rough road after Narok which is under construction. Very soon you can do a self drive to Mara which will be an amazing adventure. We arrived safely and Sarova Mara as always they never disappoint.. the reception was awesome mmmmm top notch with their staff who are very good in hospitality.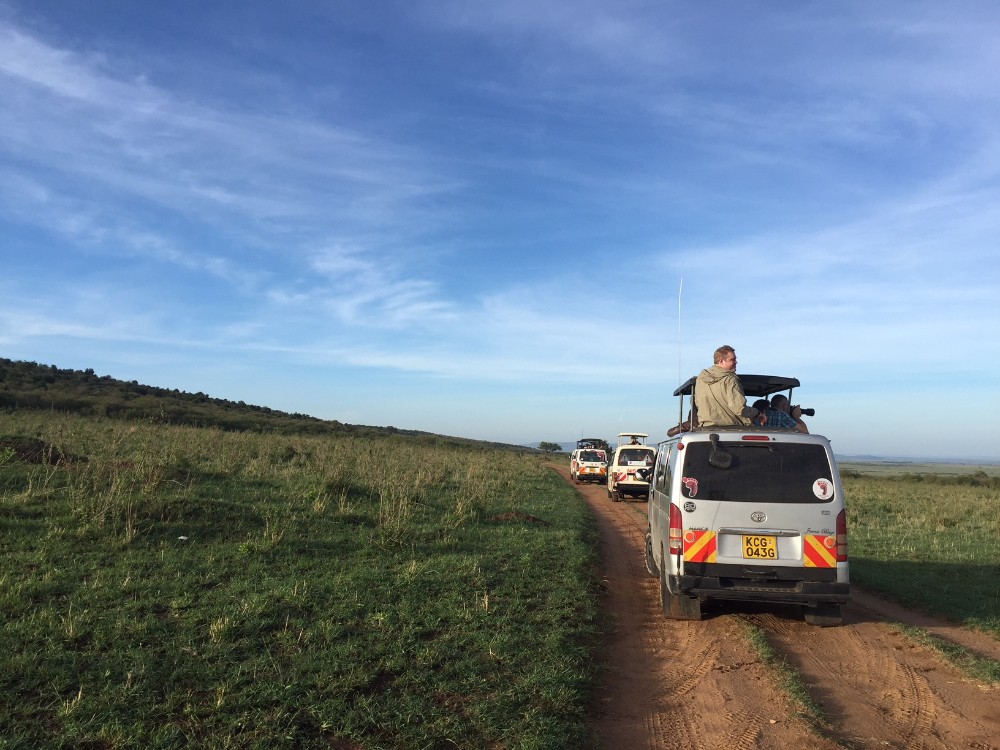 We didn't have so much time to refresh because the game drive was at 4pm. One thing that amazed me with Bigfoot is teamwork and punctuality.
The radio calls make the entire journey in safari even more fun.. Rodger….wapi Masikio rodger…Negative… Kuna vichwa after sausage tree.. Rodger.. it's a full network,they could locate animals and they know entire Mara in their fingertips..
Lucky we got a buffalo kill that was guarded by one of the female lion, hyena and vultures waiting for their turn to feast.
As always my camera was ready and the guest were surprised to see such a huge zoom lens.. one of them asked me "Are you shooting for National Geographic?" and I gave him a simple answer, they are my competitors.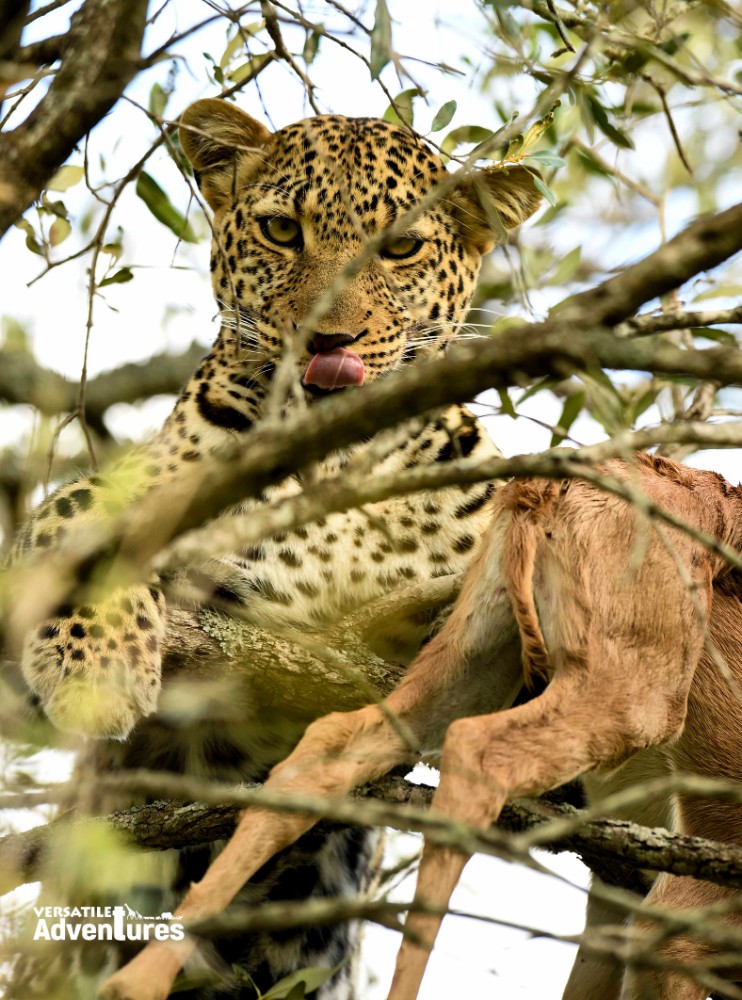 As always everyone was struggling to capture a good shot with their phone cameras and compact gadgets and that is why Versatile Adventures comes in. We capture images and small video clips which we always share with the visitors before they leave to make their safari memorable with professional images.
After a beautiful sunset, Sarova Mara had prepared a cocktail sundowner while we were being entertained by a guitarist with cool country music, amazing biting  and the mixologist never disappointed at the wild..
Back to the hotel already excited and ready for tomorrow's game drive..
After dinner, this is the time I reflect what I have captured, select and edit to avoid too much workload.
Day two game drive was early before the animals had gone for hideouts.. Mara never disappoint and our team of drivers knew where to locate all the big five.
We were very lucky to get "Waiguru," haha that's a leopard with a kill on top of a tree.. and a "pembe" a black rhino.
The weather was unpredictable but we managed to get all the big five..
Kudos to Bigfoot team and entire Mara network.
Bush dinner with the Maasai dances is what made the entire trip epic.. How sarova did it was
just out of this world.. Imagine dining at a five star way in the wild and Maasai cultural music performing live? The food was amazing, the candle lights and great service from sarova team lead by Mr Kioko gave us a moment of a lifetime to remember.
On the last day, breakfast was served early, the executive vans were all clean and ready for safari back. We all had a fun group photo and the guest were so thankful to the entire team that made their safari memorable.
One thing that will always be memorable is the Maasai village.
How Maasai's are strongly rooted to their culture and still adapt to the new world is just like a movie. Their kind hospitality is just amazing we even had an opportunity to buy gifts and souvenirs. We met a blacksmith who still uses ancient tools to make spears and amazing ornaments. The skills they have attained all the years for making jewelries is artful and unique. Don't forget to buy an item when you visit Mara, funds raised go a long way educating their children and sustaining their livelihood, so don't even bargain.
Special thanks to Bigfoot Adventures Kenya, Radisson Blu, Sarova Mara, Versatile Adventures and Mara conservancy
Versatile Adventures is entitled to always make your safari memorable with professional images of group photos,fun photos during safari activities,wildlife,culture and any request made which we always share immediately after the safari in a flash disk and email.
All the images are available for sale at Versatile adventures office in canvas, frames, post cards and wooden mounts.
Story by
David Macharia